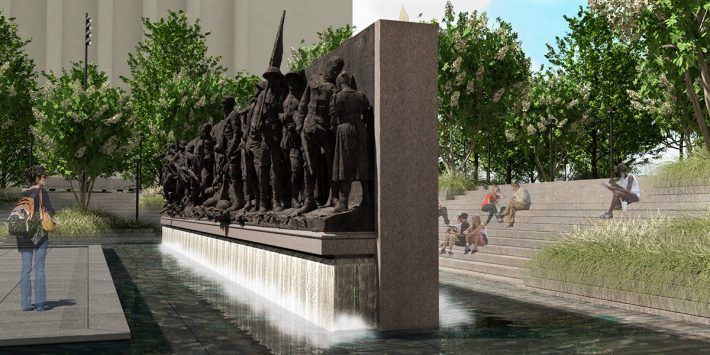 The National World War One Memorial opened in Washington, DC on April 17. The sculpture is still being finalized. (Courtesy: the U.S. WWI Centennial Commission)
By George Whitehair and Leigh Ferrier
The new memorial honoring World War I soldiers is now open in Washington DC, located in Pershing Park at 14th Street and Pennsylvania Avenue Northwest for those who were not aware. During a recent visit to our nation's capital, we had the opportunity to visit the memorial. We were in town for meetings and collaborations to continue our push for national recognition for an American hero and WWI veteran, Dr. Frank Erdman Boston. However, we ended up doing much reflection as well.
The memorial is situated in downtown D.C. and acts as a memorial to all Americans who served in World War I. The design is modern and respectful. The park is open to paying respects to those who have fought and sacrificed for this country.
An American flag flies over the memorial, and you can hear taps at 5 pm each day. As a group, we visited the memorial and watched as a bugler, dressed in authentic attire, played taps. On the street and the grounds of the memorial, people stopped and watched as the bugler played. It was a very solemn and moving experience for us, especially since we were in Washington to push awareness of Dr. Frank Boston, a WWI veteran, as we seek a third U.S. Presidential Citation.
Dr. Boston may be one of the first African American Doctors to receive two Presidential Citations from two different U.S. Presidents for his community work. Dr. Frank Boston was honored by President Harry S. Truman (1945 to 1953) when he received a "Red Cross Certificate of Appreciation, signed by President Truman and presented to Dr. Frank E. Boston, director and founder of the Lansdale Volunteer Medical Services Corps. He also received a citation from President Eisenhower (1953 to 1961) for work among the disabled. For Dr. Boston, that was his second Presidential Citation. The doctor is also the recipient of a 25-year Red Cross service certificate.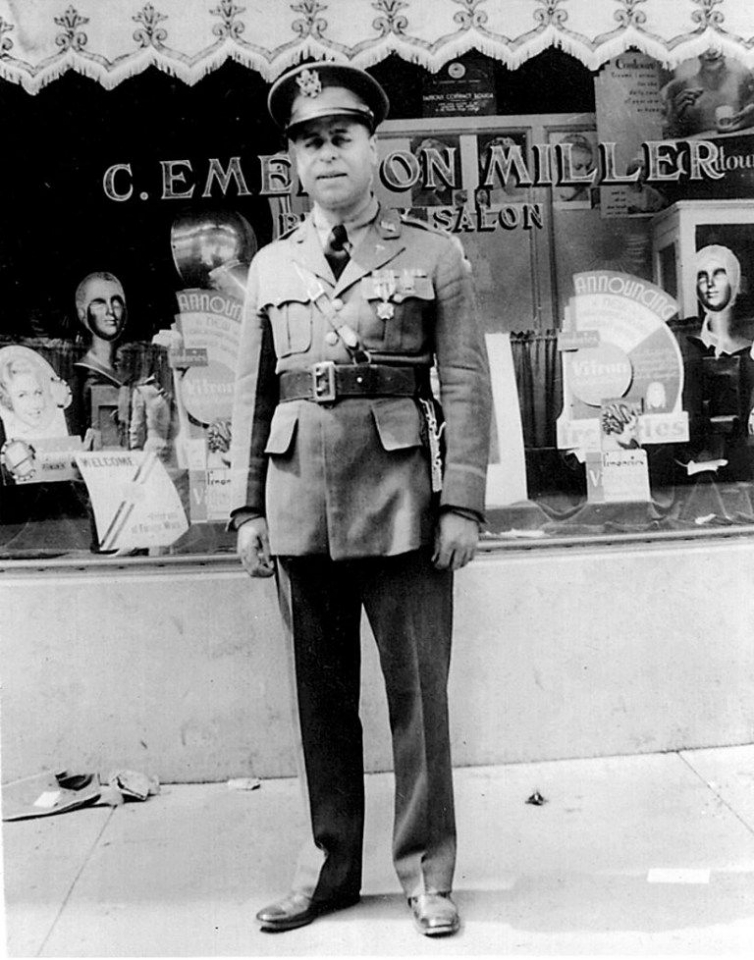 As for service to his country, Dr. Boston served as a medical officer with the 317th Engineers Regiment of the 92nd "Buffalo" Division. It was June 1918 when the Fort Des Moines officers left for France for combat against Germany. They were the 3rd Battalion, 92nd Division of the American Expeditionary Force. After completing training, Lt. Boston was assigned as a medical officer with the 317th Engineers Regiment of the 92nd Division. He served in France with the rank of Captain and ended his military service as a Major. During his tour of duty, he treated soldiers while under aerial and gas attacks. His division, the 92nd, would fight bravely across France and in the Meuse-Argonne sector.
After the war, Dr. Boston returned to begin work in Philadelphia and later settled in Lansdale's rural community. It was there that Dr. Boston established the First Aid Emergency Squad in Lansdale, which would eventually become known as the Volunteer Medical Services Corps (VMSC). Dr. Boston also started the first hospital in the area called the Elm Terrace Hospital and subsequently became part of the Abington Jefferson Health Systems. Dr. Boston may be the first African American doctor to start both a Hospital and an Ambulance Corps, which remain viable to this day.
Dr. Boston would be proud of the memorial built to honor those that served and those that made the ultimate sacrifice in World War I. It commemorates the Americans who had risked it all during one of the most significant conflicts in our history, and Dr. Frank Erdman Boston was just one of them. Something is humbling about hearing the taps played. We have the comfort of living in this period, and we are allowed to live life with safety, choice, and freedom. Those who fought in WWI did not have the same privileges we have today, and honoring their sacrifices and contributions is an integral part of being an American. For anyone wishing to celebrate the "Buffalo Soldiers," the medical doctors, the soldiers, the volunteers, and all the brave men and women who contributed to the efforts during World War I, seeing the taps played at the memorial is a great way to do it. When you visit D.C. this summer, take the time to stop and visit the memorial.
George Whitehair is the lead researcher and author of the Boston story. Leigh Ferrier is an honors student from Arcadia University and one of the many volunteers who have devoted their time to bringing his story to life.
Copyright © 2021 by George Whitehair
All rights reserved. No part of this publication may be reproduced, distributed, or transmitted in any form or by any means, including photocopying, recording, or other electronic or mechanical methods, without the prior written permission of the publisher, except uses permitted by copyright law.
The PA VFW HQs was asked to share the story.