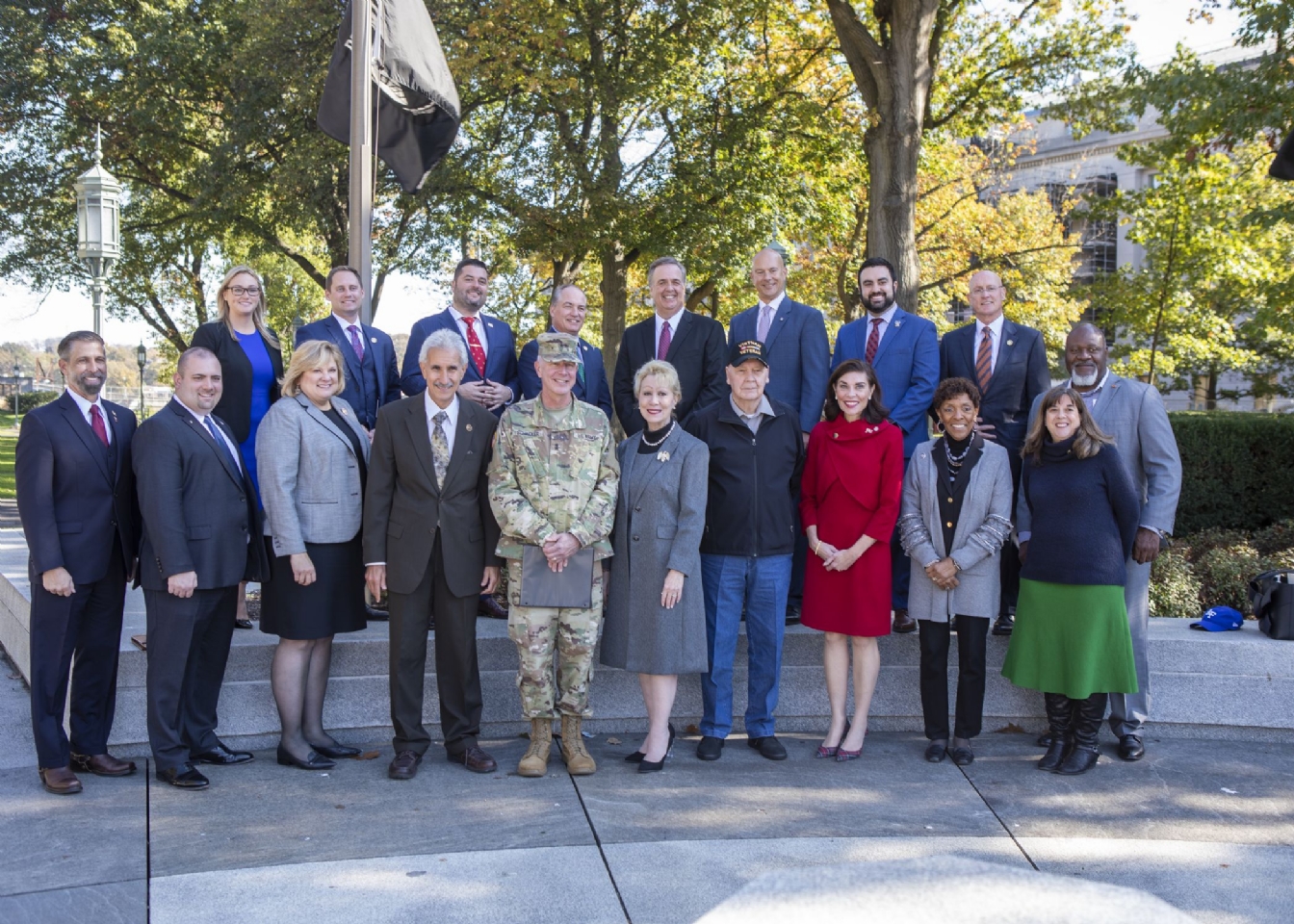 Pictured center is Majority Chairman Rep. Karen Boback (R-Lackawanna/Luzerne/Wyoming) with t
he Adjutant General of Pennsylvania, Maj. Gen. Mark J. Schindler, and
fellow House members present to support a package of bills honoring veterans across Pennsylvania.
HARRISBURG – Rep. Karen Boback (R-Lackawanna/Luzerne/Wyoming), majority chairman of the House Veterans Affairs and Emergency Preparedness Committee, joined by members of the committee, Majority Leader Kerry Benninghoff (R-Centre/Mifflin) and Adjutant General Mark Schindler, today stand in support of veterans across the Commonwealth by announcing a Veterans Day package of bills running in the House of Representatives this week.
"We stand here today in this beautiful setting of Soldiers' Grove to honor the brave men and women who have served their country so honorably and heroically as members of our armed forces," said Boback. "This Veterans Day session week allows us to support our veterans by advancing these bills through committee and on the House floor.
"This package of bills will enhance the lives of our veterans community. It seeks to improve professional licensure provisions for veterans, service members and their families. There are increases to the blind and paralyzed veteran pension programs, with improvements to the National Guard life insurance program provisions. It also includes further protections for military discharge records and the care of veterans graves. In addition, we have created a recognition day for veterans of the Persian Gulf War and the Global War on Terrorism, and look to commemorate Veterans Day 2021 in Pennsylvania.
"It is important to continue to work together in the General Assembly for the betterment of our veterans. In the coming months, we will continue to work on legislation that will offer benefits to veterans and their families, as well as current service members. I am grateful for the committee members and the sponsors of the legislation, and I look forward to seeing their passage through the General Assembly."
The Veterans Day package of bills includes House Bills 1055, 1220, 1612 and 1868; House Resolution 153; and Senate Bills 248 and 550.