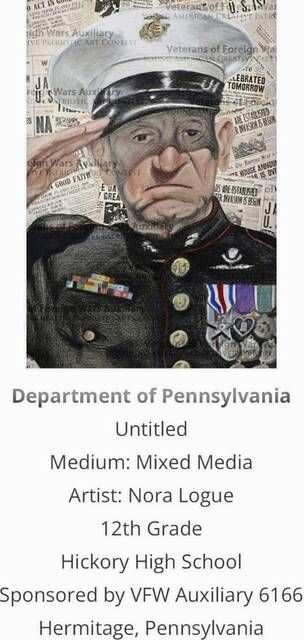 This 2001 Pennsylvania VFW Auxiliary Young American Creative Patriotic Art Contest winning project was submitted by senior Nora Logue Hickory School in Hermitage.
A national contest with a patriotic theme is seeking original art submissions from high school students.
The 2022 VFW Auxiliary's Young American Creative Patriotic Art Contest is accepting entries until March 31.
The annual contest recognizes budding artists and encourages patriotism among youth.
Vandergrift VFW Post 566 Commander Carl Trusiak said he'd love to see more art students from the Alle-Kiski Valley participate.
"It allows them to express their patriotism through their artwork and provide them a chance to receive a scholarship to advance their continued education," Trusiak said.
Any student in grades 9-12 who are enrolled in public, private, home study or parochial high school in the United States may participate. Students must be U.S. citizens.
The first-place winner from each state competes for national scholarship awards totaling $33,000.
The grand prize winner will be awarded $15,000.
A total of $31,500 in national scholarships was awarded to 10 students in 2021.
For a list of 2021 winners, click here.
Annually, more than 4,000 students compete in the contest that began in 1979.
Leechburg Area High School senior art student Taedem Banichar plans to submit artwork.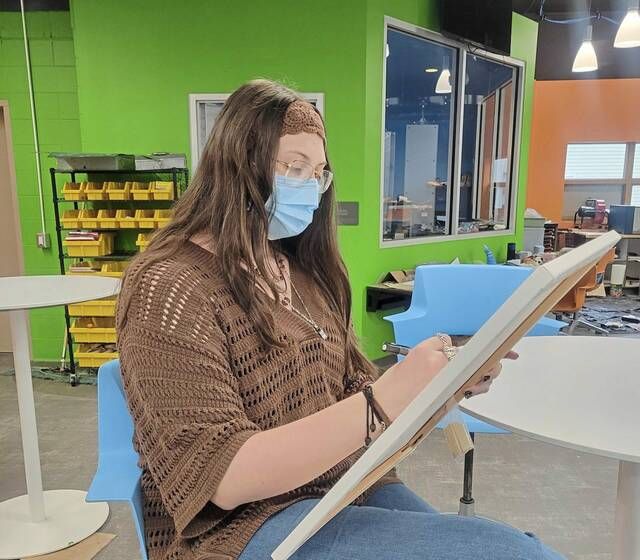 "I want to do it for the pride in our country, and I like the idea of combining art with a scholarship," Banichar said.
Art teacher Shayle Prorok said she hopes more students will decide to submit entries.
"This is an important competition because it deals with art, and it is a tribute to those who sacrifice for our everyday freedoms," Prorok said.
Entries must be completed during the school year and include a teacher or adult signature and a 250-or-less-word written explanation of the artwork.
Eligible mediums include two-dimensional art on paper or canvas and three-dimensional works of paper, pottery, papier-mache, clay, metal work, fabric and more.
For a complete list of contest rules and requirements,
click here
.
The VFW Auxiliary is one of the nation's oldest veteran service organizations with 470,000 members representing all 50 states. Annually, members volunteer millions of hours and donate millions of dollars to support military service personnel and their families and veterans.
Joyce Hanz is a Tribune-Review staff writer. You can contact Joyce at 724-226-7725 ,
jhanz@triblive.com